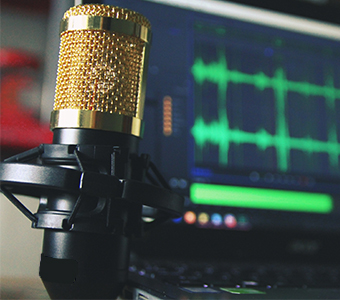 Our sound engineering and music production program is designed to train musically creative and technically proficient engineers in the modern recording world. Our 1 year diploma in sound engineering & Music production program is a comprehensive hands on practical training program. All our short term program modules are covered in detail in this diploma course.

Throughout the program, students are involved in hands-on exercises and real-world studio projects that enable them to apply their knowledge and refine their skills. Students are introduced and trained on different audio production courses — from traditional studio work, live sound, post production, sound design, composing and programming for songs. Internships are provided to students within and outside the city zone limits to improve their knowledge in doing their audio engineering in Chennai.

In our advanced classes, students hone their creative and technical skills while working with advanced recording, editing, mixing and mastering techniques, song arrangement, chord structure and harmony. At the end of the program, each student presents a portfolio — a selection of his or her best work to date. This serves as a demo reel for potential employers and clients — an audio resume with professional content that highlights the graduate's talent and skill. We are ranked to provide the finest sound engineering courses in Chennai with best infrastructures & practical oriented work methodologies. To enroll click the admissions page from the menu and join the best sound engineering institutes in Chennai.


Our training Modules :


Fundamentals: Basics of Sound | Audio Electronics | Decibels – The Audio Math | Acoustics - Recording Theory: Audio Interface | Microphones | Loudspeakers | Studio Routing | Signal Flow - Live Sound: Live Sound Fundamentals | Analog & Digital Mixers | Crossovers | Line arrays | Audio Networking | FOH Mixes | MOH Mixes | Digital Audio & Recording Arts: Digital Technology | DAW Software's | Recording techniques | Miking Techniques | Studio Monitors | Studio Mixers | Control Surfaces - Music technology: Music Theory (London Trinity Grade Exams) | MIDI | Programming | Sequencing | Sampling | Synthesis | Intro to composing | Pitch Corrections - Post Production: Sound Designing | Digital Signal Processors | Mixing Techniques | Mastering Skills